Journey from Skin to Soul
~ SoulzVoice​
Journey from Skin to Soul - SoulzVoice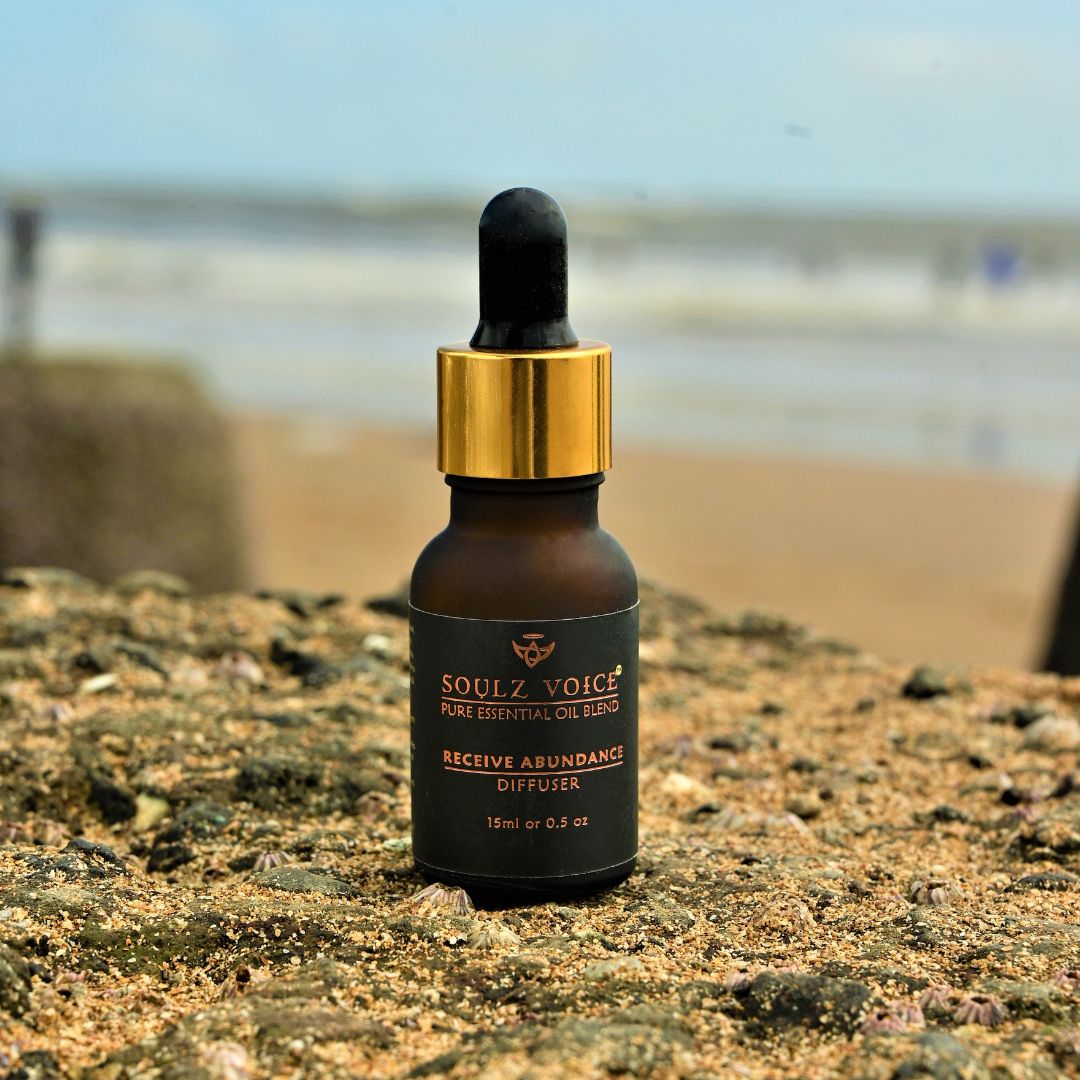 Receive Abundance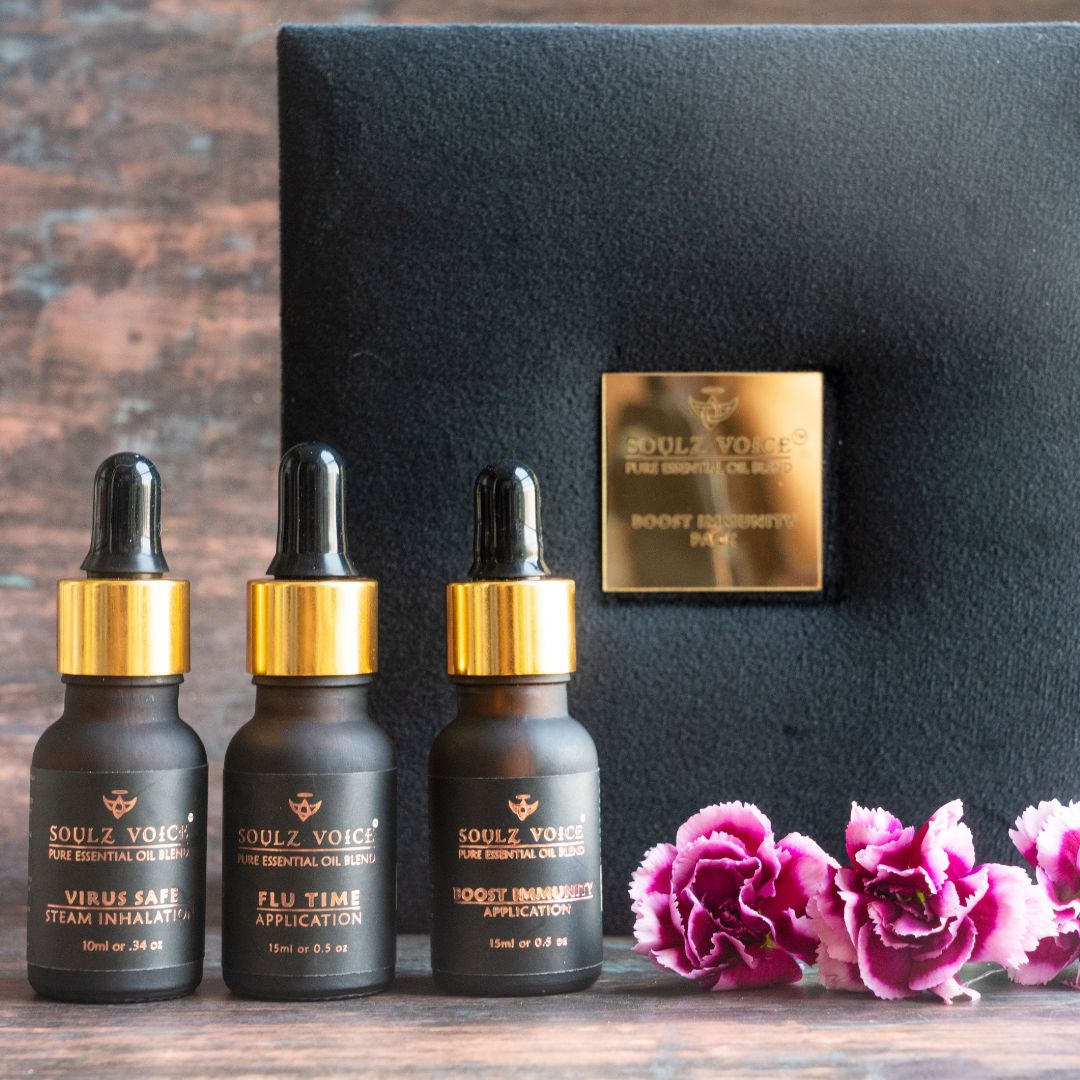 Boost Immunity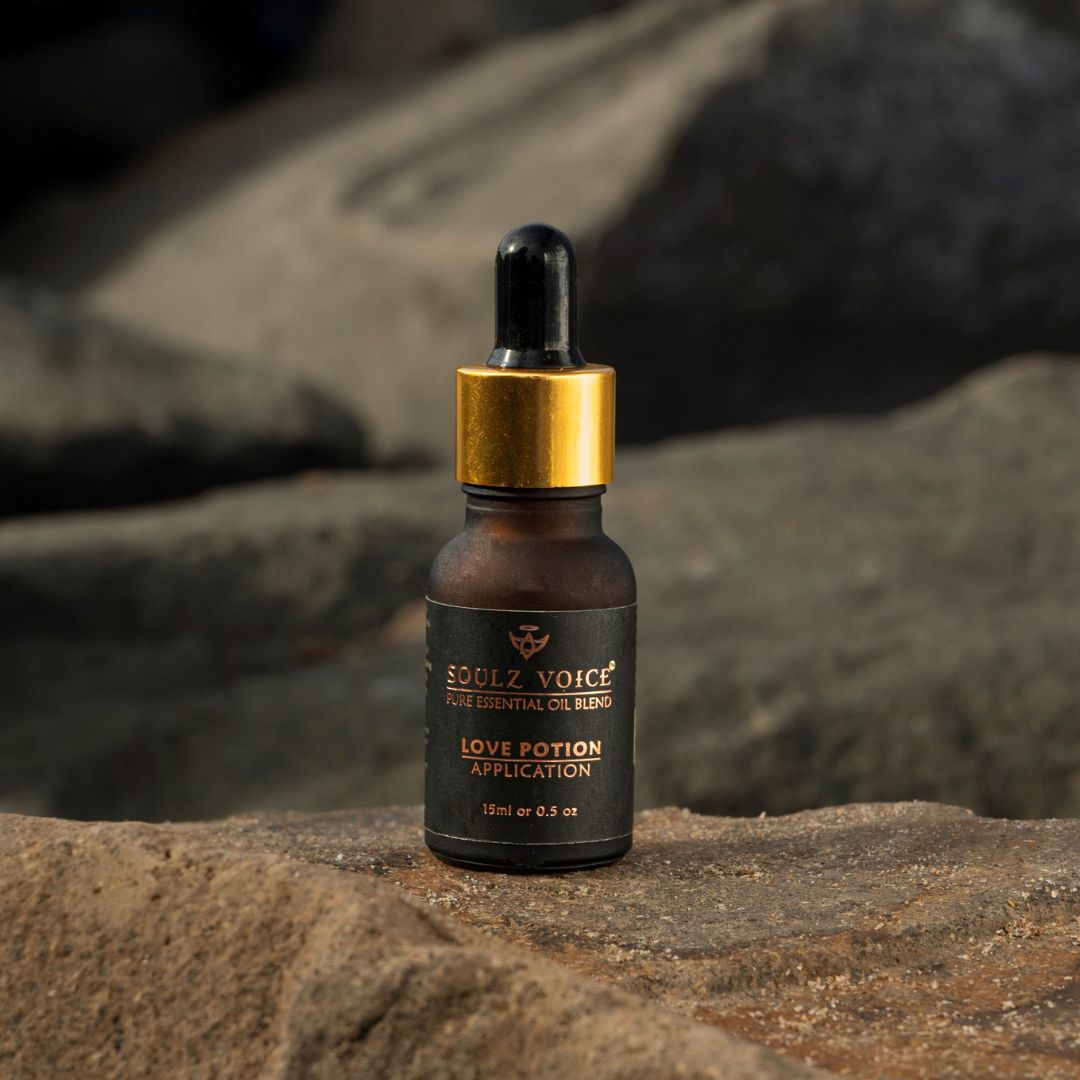 Love Potion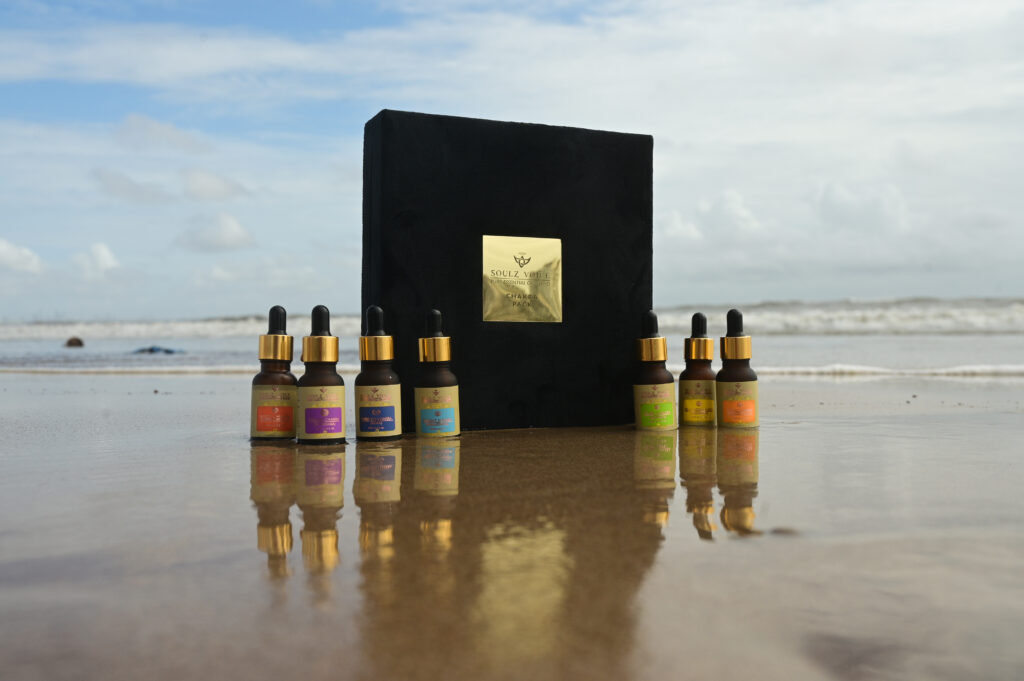 Chakra pack is a combination of powerful botanical essential oils master-crafted to ensure all your chakras are balanced well and that they get unblocked.
New To Essential Oils? Read this…
Take our quiz to find the right Essential Oil Blend for you
How can Essential Oils heal you?​
How to use our products effectively?
Didn't find what you are looking for?
Fill out this form and let us know how we can help you.
I have been using the mesmerising and magical Chakra Healing oils from the Chakra Pack by Soulz Voice. Being an energy healer myself, I can truly vouch for the potency and effectiveness of these products. I have felt a remarkable shift in me and my surroundings. I can't thank the Universe and Soulz Voice enough 🙏🌸
I started using the products of Soulz Voice a few years ago. I have suffered from sinusitis which resulted in blocked nose, a heaviness in the head, irritation and stubborn headaches that would not go away with any of other remedies. Where even the allopathic remedies could not provide a complete long term solution, the Sinus Blend by Soulz Voice helped me immeasurably. I religiously used it over a long period of time and I did not get my sinus headache even once, during that time. Another instance that I would like to share is, I was going through a rough patch in my life. A beloved family member was critically ill and we used to visit the hospital multiple times in a day. It was draining - physically, emotionally and psychologically. I constantly felt overwhelmed and had multiple breakdowns. Then I began using Aura Protection blend and things shifted drastically. No more emotional breakdown, no more feelings of things spinning out of control. I felt robust, strong, centred and rooted. The most miraculous of it all was, once I was amidst an emotional breakdown that had completely taken over. I just could not stop crying. I had undergone major trauma, losing my parents and major emotional upheavals. It was a day when it all came crashing down, I sobbed and sobbed. Tears flowed so powerful that nothing could stop them. I was with my family and they tried to help, but to no avail. I had cried the whole day and when I was still crying in the evening, my family, in desperation, gave me a blend for cupping. Just like that, the tears stopped. It was as if emergency brakes had been hit. I felt instantly lighter, like the clouds of melancholy parted and I did not feel the urge to cry anymore. I looked at them in amazement and they showed me the bottle. It was then I knew that the blend was named Receive Abundance.
I've used a few products from Soulzvoice in the past 2 years. I was having difficulty after my mother was diagnosed with cancer and she passed away in a short span of time post diagnosis. Insomnia, anxiety, my latent ptsd all flared up and I didn't have peace within. With a special blend from SoulzVoice, I was able to fall asleep within a day or two and in the waking hours I found I was able to cope with the grief. My real healing started then. I also had some issues with my business and finances prior to this and the Attract Abundance bottle really shifted things. Infact it's so strange that it started working on me the moment I ordered it. I got nominated for an award, I landed 2 new clients and a legal matter that was blocking my inheritance got cleared. Literally within 24 hrs of ordering the bottle. This stuff is potent and the founder Bhartte Kapoor who I have known well for a while now, puts her heart and soul into each and every blend, with love and sincerity and her primary aim of truly providing relief to her clients comes through. Once you start with this brand, you'll want no other.
The things were complicated I can say, as you can only change yourself but it's very tough to change things around you. So after the use of soulzvoice essential oils blends, I felt the change in my surroundings. Where some cases people mellowed down and some areas people just left who were the reason of the negativity around me. The results were very fruitful & positive. With my science I can only work on myself but with soulzvoice I could change my environment and things started rolling. I would love to recommend as there are no side effects of this and only positive changes is what you see. I am still using these all and loving all changes around me. Third eye chakra Blend Evil Eye Blend Receive Abundance Love potiom Aura Protection
I received this gift of Chakra Oils from Soulz Voice, and being a non user was a little sceptical. I didn't use it for few days till one day I felt tempted and opened it. Let me share the look and feel of the product is too good - too luring. I picked the Heart chakra and followed the instructions and inhaled. And wow did my world my space transform - completely. I loved it. Today after a month of using it off and on it has become part of my personal grooming routine. My body loves it. Also people around me smell it when I use it on my temples or behind my ears or at my wrists. The feeling of ease and wellness is huge. Must try once for self
Happy oil comes across as a light, fresh, fruity aroma …thes best mood enhancer I've come across…instant prescription to a Cheerful jovial, and optimistic feeling…all it takes is a few seconds. Literally!! Receiving Abundance is a essential concoction that transfers one into the realms of bliss where the presence of content takes over immediately. Hence, makes one feel at peace and completely relaxed and worry free in a jiffy!! It's very hard to find something without breaking out into rashes. These oils have been a pleasure and boon to my mind, body and soul! Couldn't thank you enough 'Soulz Voice' for introducing and bringing into our lives such a simple yet profound way to love ourselves even more!
Soulzvoice Chakra pack blend turned me 180 degrees towards my real self and also brought a significant difference when it comes to our spiritual growth, it works as a support system. These chakras oils helped me to align my energies,which ultimately brought me the clarity about my situation & helped me further for better decision making. I am really blessed and thankful to Bhartte Kapoor to create these and get me this nectar of life. Highly recommended GRATITUDE 🙏
I started using the Soulz Voice oils a month and a half back . Before that , I was experiencing anxiety , low & negative emotions all the time . It was getting difficult to function and be normal . Energy was also low and it wasn't a happy space . I felt weak and depressed. At first , I wasn't sure just the use of oils would help to this extent , but they are miraculous! They went deep into my system as soon as I did the cupping and there was sudden boost of good energy and positive vibes . I felt shielded with the 'evil eye Aura protection '! I felt my Receiving had opened with the Received Abundance oil . And I slept better . I would highly recommend the use of these oils not only to get rid of existing issues and problems that come our way everyday but also to maintain a healthy mind and body .These oils help you to connect better to your inner Soul. And bring out the best in you !
My first experience with Soulz Voice essential oils was when I got covid. I received the Boost immunity pack. And started using the oils regularly. I was extensively using the 'Virus safe' steam inhalation oil thrice a day. And my recovery was almost twice faster than usually expected. Not only does it smell great, but also has an immediate effect on the nose and chest congestion while taking steam inhalation. I finished the Virus safe oil bottle in 2 weeks which is great as I was using it 2-3 times per day. It not just helps physically but also caters to one's mental and emotional health. The rest of the oils, Flu time and Boost immunity oil, are extremely potent as well. I use them both regularly once a day and can see a significant change in my energy levels and general well being. That too in such a simple and effortless way. I am now intending to buy the entire Home remedy kit for maintaining my daily well being, which is of utmost importance given these challenging times. Thank you Soulz Voice for introducing these magical oils in the world. Makes life so much easier and Fragrant.
I was going through a very very dark phase in life , battling depression, anxiety which lead to my immunity also going for a toss … I was suggested soulzvoice oils … having never used them … I gave it a try and was pleasantly surprised at the magic they worked on me … I became a positive strong person with zest for life and always ready to take on the challenges … my daughter , mother , father and I, we all used the immunity oil throughout covid and otherwise also… which made that phase very smooth for us … I vouch for them as my little girl had horrible cough and sleepless nights… I worked magic on her too… the oils helped us all immensely and we highly recommend them for a happy living and positive environment.